Alico, Inc. to Attend 3rd Annual AGTech Answers Conference
FORT MYERS, Fla., Nov. 13, 2023 (GLOBE NEWSWIRE) -- Alico, Inc. ("Alico" or the "Company") (NASDAQ: ALCO) announced today that John Kiernan, the Company's Chief Executive Officer and President, and Bradley Heine, the Company's Chief Financial Officer, will attend the 3rd Annual AGTech Answers Conference, held in New York, NY, on November 14, 2023.

COMPANY HISTORY
Over 125 years of experience, currently managing approximately 50,000 acres of citrus groves in 31 locations across 7 counties.
Top citrus grower in the US and primary supplier to Tropicana, a leading orange juice brand in the US.
Recognized within the citrus industry for exceptional caretaking practices, one result being a new partnership with a large citrus grower to manage another 2,500 acres of citrus groves, with expenses reimbursed and a management fee paid per acre for its services.

CITRUS OPERATIONS
Alico is still recovering from the aftermath of Hurricane Ian in 2022, which damaged half of its crops intended for the 2023 harvest season. Alico hopes to receive federal disaster relief funds from the Consolidated Appropriations Act that was passed into law December 2022, but cannot determine the amount of relief for which it may be eligible. Alico continues to support Florida Citrus Mutual, its industry trade group, and government agencies as they work to finalize federal relief programs.
Over 35% of Alico's trees have been treated with an oxytetracycline or 'OTC' injection since January 2023 to combat citrus greening with the goal to improve fruit quality and decrease fruit drop rate. Full extent of its benefits will not be measurable until after the 2024 harvest.
Alico is confident that its crop recovery in the 2024 harvest season will be significant because of its exceptional caretaking practices, proactive OTC treatment, and the maturing of over 2 million trees planted by the Company since 2017.

REAL ESTATE
On September 18, 2023, Alico signed a contract with the State of Florida to sell its remaining 17,000 acres of the Alico Ranch for roughly $77.6 million. The deal is anticipated to close before February of 2024. Once closed, the pending contract will result in a total of approximately 69,000 acres of the Alico Ranch sold for $226 million to over 25 buyers since 2018. Plans for use of proceeds are being finalized, with reducing balances on revolving and working capital credit lines incurred since Hurricane Ian in September 2022 a priority. Repayment of variable rate debt balances without penalty is also a likely use of net proceeds from the sale.
Alico continues to evaluate all of its properties to explore creative solutions to enhance and extract value. Alico seeks to provide investors with the benefits and stability of a conventional agriculture investment with the optionality that comes with active land management.
Alico recently concluded its work with land-use planning professionals to evaluate the long-term potential value of our real estate assets. This led to the commencement of the multi-year entitlement process for a 4,500-acre grove near Fort Myers in Collier County. Alico plans to continue citrus operations while exploring the property's highest and best use.

FINANCIALS
Consistent with our past practices, all future capital allocation decisions will be evaluated to maximize returns to shareholders.
Alico has also been notified that all shareholder litigation related to the balance sheet restatement last December has been voluntarily dismissed without prejudice by the plaintiffs.
ABOUT ALICO
Alico, Inc. primarily operates two divisions: Alico Citrus, one of the nation's largest citrus producers, and Land Management and Other Operations, which includes land leasing and related support operations. Learn more about Alico (Nasdaq: "ALCO") at www.alicoinc.com.
FORWARD LOOKING STATEMENTS
This press release contains forward-looking statements within the meaning of Section 27A of the Securities Act of 1933, as amended, and Section 21E of the Securities Exchange Act of 1934, as amended. Forward-looking statements include, but are not limited to, statements regarding business strategy, plans and objectives of management for future operations, receipt of federal disaster relief funds, benefits of 'OTC' injection in Alico's trees, our crop recovery in the 2024 harvest season, closing of the Alico ranch sale, or any other statements relating to our future activities or other future events or conditions. These statements are based on our current expectations, estimates and projections about our business based, in part, on assumptions made by our management and can be identified by terms such as "will," "should," "expects," "plans," ,"hopes," "anticipates," "could," "intends," "targets," "projects," "contemplates," "believes," "estimates," "forecasts," "predicts," "potential" or "continue" or the negative of these terms or other similar expressions. Alico believes the expectations reflected in the forward-looking statements are reasonable but cannot guarantee future results, level of activity, performance or achievements. Actual results may differ materially from those expressed or implied in the forward-looking statements. Therefore, Alico cautions you against relying on any of these forward-looking statements.
These forward-looking statements are not guarantees of future performance and involve risks, uncertainties and assumptions that are difficult to predict. Therefore, actual outcomes and results may differ materially from what is expressed or forecasted in the forward-looking statements due to numerous factors, including, but not limited to: adverse weather conditions, natural disasters and other natural conditions, including the effects of climate change; damage and loss to our citrus groves from disease including but not limited to citrus greening and citrus canker; hurricanes and tropical storms given our geographic concentration in Florida; any adverse event affecting our citrus business; our ability to maintain our market share in a highly competitive business; future citrus production estimates; our dependency on our relationship with Tropicana and Tropicana's relationship with certain third parties; heightened risks as a result of the sale of a majority of ownership of Tropicana to a French private equity firm; supply and demand pricing; development and execution of our strategic growth initiatives; product contamination and product liability claims; water use regulations restricting our access to water; changes in immigration laws; risks associated with acquisition of additional agricultural assets and other businesses; adverse impacts from dispositions of our assets; harm to our reputation; tax risks associated with a "Section 1031 Exchange"; undertaking one or more significant corporate transactions; seasonality of our citrus business; significant competition in our agricultural operations; fluctuations in our earnings as a result of market supply and prices and demand for our products; climate change, or legal, regulatory or market measures to address climate change and sustainability; increases in labor, personnel and benefits costs; increases in commodity or raw product costs, such as fuel and chemical costs; transportation risks; any change or the classification or valuation methods employed by county property appraisers related to our real estate taxes; any weakness or instability in the real estate industry; liability for the use of fertilizers, pesticides, herbicides and other potentially hazardous substances; compliance with applicable environmental laws; loss of key employees; material weaknesses and other control deficiencies, including as a result of restatement of our financial statements as of September 30, 2021, and the end of certain quarterly periods; the impact of any restatements and any resulting investigations, legal or administrative proceedings; the effect of inflation on our operations, including as a result of the conflict in Ukraine; increased costs as a result of being a public company; system security risks; the COVID-19 pandemic; any harm by natural disasters or epidemics; our indebtedness and ability to generate sufficient cash flow to service our debt obligations; higher interest expenses as a result of variable rates of interest for our debt; our ability to continue to pay cash dividends; and risks related with repurchases; and the other factors described under the sections "Risk Factors" and "Management's Discussion and Analysis of Financial Condition and Results of Operations" in our Annual Report on Form 10-K for the fiscal year ended September 30, 2022 filed with the Securities and Exchange Commission (the "SEC") on December 13, 2022 and in our Quarterly Reports on Form 10-Q. Except as required by law, we do not undertake an obligation to publicly update or revise any forward-looking statement, whether as a result of new information, future developments, or otherwise.
INVESTOR RELATIONS CONTACT
Any questions can be emailed to: investorrelations@alicoinc.com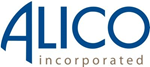 Source: Alico, Inc.

Released November 13, 2023